Washington, D.C
2020
This project was brought to us as the broadcast set design piece of a larger revamp within the BBC's Washington Bureau. The entire Washington DC Headquarters underwent a complete gut and redesign, but our focus was the intimate 360 degree studio that required flexible show set ups and a smooth finish.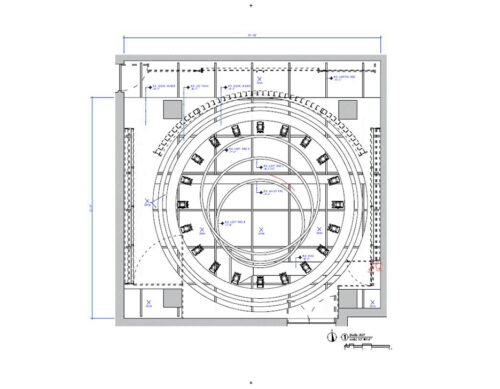 The space is equipped with 3 Tracking Curved LED Displays, two landscape one portrait. These features allow the BBC to set the studio up in a variety of ways. Before, the studio was locked and could only be shot from one direction. Working with programming that transitions from day to night – design considerations had to allow the studio a range of moods. Implementing two sets of roller graphics (four rollers in total), the studio can shift from a day look to a night look at a flip of a switch. The studio space presented challenges in its low ceilings and even lower structures, such as an HVAC duct and a water main. Ceiling conditions hindered us from going above eight feet tall, but by utilizing lightbox room extension views and an airy feel to the space, the 360-degree space has an added depth and openness.
BBC News' Washington Bureau launched on August 17th,2020. See more imagery for BBC News here.
Lead Designer: Kendra James
Project Manager: Tristan James
Fabrication: Dimensional Worldwide
Lighting: Eastern Lighting Design