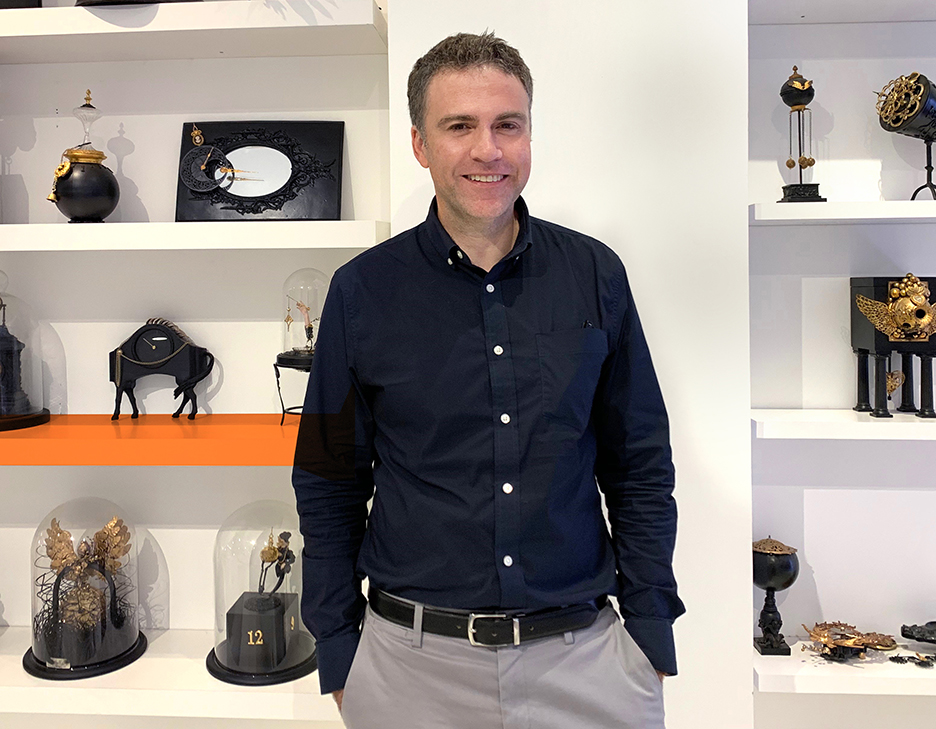 Emmett Aiello is a master of digital artistry, but wields a pencil and hammer with equal skill, giving him street cred with the design savvy and inspiring envy in the digitally dependent. Schooled in drawing by his mom — a children's book illustrator — and at the Cape Playhouse as a carpenter under famed scenic artists Helen Pond and Herbert Senn, Emmett learned that a designer could be equal parts visionary and craftsman. It was backstage he found that he possessed another "gear" past exhaustion — a quality that would serve him well pursuing a BA and MFA in theater from Tufts and Brandeis, respectively.
Emmett may be Boston born and bred, but when theater enters the bloodstream at an early age, there is only one pin in the map: NYC. He headed here in 1997, working in theater, film, television, museums/exhibits, retail, and events. Emmett served as an associate/assistant to a number of great designers, including Adrianne Lobel, Robert Brill, Loren Sherman, David Rockwell, Kristi Zea and others.
Emmett worked with Erik Ulfers/Production Design Group as a freelance illustrator in 1998, and later with Erik at Jack Morton Worldwide as Senior Art Director from 2004-2008. Together with longtime creative partner Jen Robison, Emmett owned and operated the creative services shop Wanted Man Works for 5 years. He then served as Executive Design Director at MKTG, an experiential marketing agency, for nearly 4 years. Clients included Nike, Gatorade, Diageo, and MSNBC.
Emmett is an aficionado of B-movies and "where are they now" actors, the "Golden Age" of TV that we are living in, and a die-hard fan of the 4 major Boston sports teams (which should not be held against him). He is a guitarist and sometime-singer for the Brooklyn band, Dear Comrade. The band has released 3 albums and appear regularly in NYC clubs — minimal cover, donations welcome.
Design/Art Inspiration: painter John Singer Sargent, scenic designer Karl Eigsti, concept designer Ryan Church