Clickspring's CNN Iowa Debate Set Shines in Intimate Venue
Six candidates took the debate stage in Iowa as the field narrows closer to the 2020 Democratic Presidential Primary. This January 14th debate, hosted by CNN and The Des Moines Register, is the smallest participant pool we have seen yet this cycle. The venue, Sheslow Auditorium at Drake University, was significantly smaller, too. For reference, the Ohio debate audience held 1,000 guests, Detroit held 2,200, and this debate only had room for 456. Because of this, we were tasked with creating innovative design solutions to adapt and scale our set down without compromising integrity of the overall design.
Adrienne Kapalko, our Director of Operations, describes the lighting solutions, shown left and below: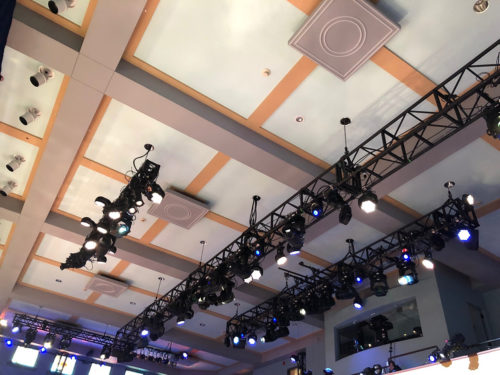 "We had the opportunity to get creative when it came to the rigging needed for scenic and lighting. In lieu of floor supported truss traditionally used in this space the team was able to identify an attic space with structural beams directly above the stage and house. This was game changing as it allowed the truss for the lighting and scenic elements to be suspended through the ceiling, strategically aligning the pick points with existing architectural house lights to avoid any damage to the auditorium. Identifying these structural beams in the attic made it possible to carry the load of the lights, let us maximize audience by avoiding ground supported infrastructure, and allowed a much cleaner visual aesthetic in the smaller venue."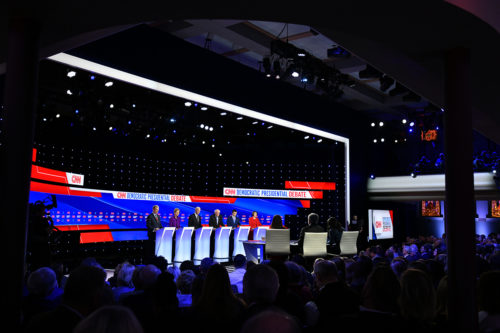 We got to work designing for this smaller venue less than a month prior to the debate. By planning ahead in the initial design for an adaptable set, we ensured the modular pieces would accommodate large venues and candidate pools, as well as small venues with fewer candidates. While we did not use the circular truss with illuminated stars that normally hangs above the debate stage this time around, we were able to include a modified version of the video wall and the full moderator desk, ultimately maintaining the integrity of our design. We really enjoyed working with the team to create innovative design solutions, especially with the lighting. It's what makes us tick! Check out more photos from the night here.